Service Status: this service is seasonal and not currently being offered at this time. Check back later for updates or contact us for information about our other services. Thank you!
Look No Further For Drain Cleaning Services Near Me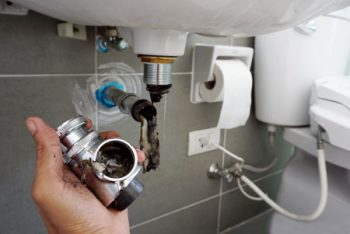 When the drains in your home become clogged, don't wait to reach out to your local plumber. What seems like a small issue can potentially cause much bigger issues. While it may seem easier to take matters into your own hands by purchasing over the counter options, such as liquid drain cleaning products or drain snakes, you never know if this can actually contribute to the underlying problem. Liquid drain cleaners can cause pipe corrosion and snakes can actually damage them if not used properly. While hardware store products do work in some cases, proper inspection and diagnosis from a professional plumber can save you thousands of dollars in the long run.
Don't risk ruining your drains with DIY methods! Call the professionals at Service Plus Plumbing to take a look into what is causing the issue with your drains. We use up to date, high-tech methods to diagnose the root of the backup, which allows us to properly fix whatever is causing the problem with your drains. Sometimes it's as simple as a buildup of hair, grime, and other waste. Other times it's a bigger issue that can lead to plumbing leaks. Our team can get to the bottom of whatever problem you're having with your drains, or simply provide ongoing maintenance. Whatever the need may be, Service Plus Plumbing is your locally preferred plumber for drain cleaning services.
Indoor and Outdoor Drainage Services
The plumbers at Service Plus can tackle all types of clogged drains – inside and outside. Perhaps leaves and debris are causing an outside storm drain to back up and flood. Or maybe the trees in your yard are affecting the sewer line. Don't put off calling in a professional and risking extensive damage to your home.
Do you have issues with your basement floor drains? Or hair and debris in the shower drain that won't budge? Service Plus Plumbing invests in top of the line, Spartan drain cleaning tools, offering you superior results and unrivaled customer service. Clogged drains can mean much more than some minor flooding. Call the best plumber in Portland and avoid potential home and property damage.
Hydro-Jetting For Drainage Cleaning
When it comes to removing the most difficult and stubborn clogs from a drain, hydro-jetting is the most current, advanced method. Using high-pressure water streams with top of the line equipment, our professional plumbers can eliminate the problem once and for all. Hydro-jetting also cleans the lining of your pipes – giving them a restored feeling and clearing any remaining residue other drain cleaning methods can leave behind.
A drain cleaning service from a plumber at Service Plus Plumbing equals results. If you want a professional cleaning for your clogged drains, buildup removed to prevent future clogs, or just regular preventative maintenance, give us a call today!