We are grateful for your business and appreciate any feedback you have for us.
Please fill out the form and let us know how your experience was. Thank you.
---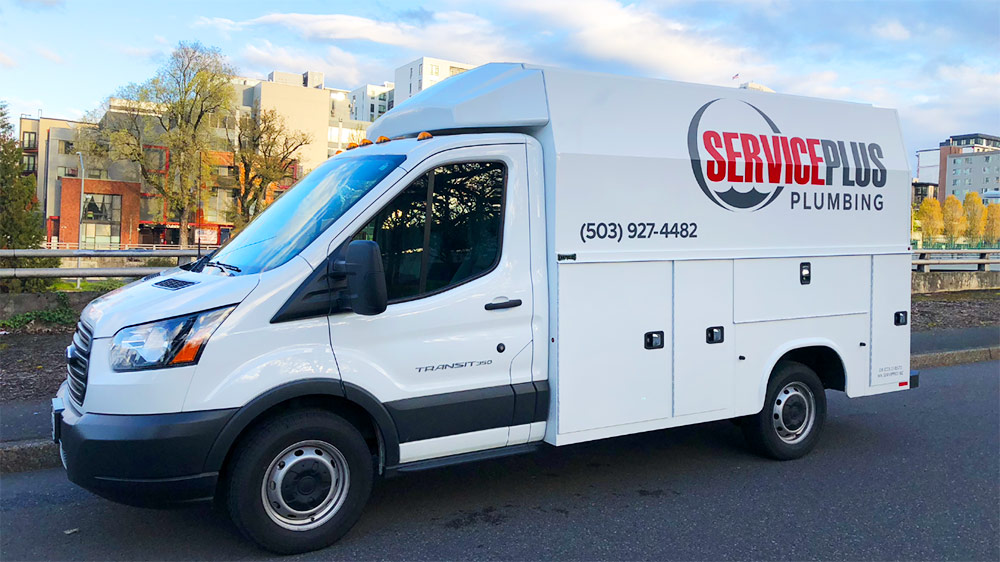 ---
Fast, efficient and professional…
We had to replace our 100+ year old sewer line, due to root damage. Having just had the front of our property remodeled, I was reluctant to have it dug up. Enter ServicePlus – Joseph came out and suggested that they could burst the old pipe out, underground, replacing it with a new line at the same time. The guys were great to work with, as was everyone in the ServicePlus office. Thoroughly recommended…
Keith Temple
great and fast service
We needed a plumber to install new shower and tub tie-ins for a bathroom remodel. Alex came and did a great job. He was helpful in explaining what he did afterwards and shared with us how to install the shower fixtures after the drywall and tile work was complete.
We ended up needing some help with some of the fixtures in addition to the p trap wasn't lining up with our new sink and drain. Charles came out this time and was equally helpful and took care of everything we needed.
We have had two different plumbers and both have been great.
Jonathan
Great service
What a positive experience, starting with talking to Yvette who schedule Joseph to come out the same day, Friday, to inspect a water leak near the city meter.That same day Joseph called a leak detection company to schedule service. Leak was located on Monday and info/pictures were sent to Service Plus. Landon was able to repair the leak on Wednesday at a reasonable cost.
I very much appreciate everyone's positive and professional attitude.
Bob B
Outstanding Customer Service
This definitely a 5 star review. I recently hired Service Plus Plumbing to repair a leak on my side of the water meter. After the City Water Bureau confirmed that the leak was on my side of the meter I contacted Service Plus Plumbing. Landon, the owner, came out and accessed the problem, gave me quote and scheduled an emergency repair for later that day. When he came back he was able to quickly find and repair the leak. He even installed a new shut off valve next to the meter for us. They also cleaned everything up, reseeded my lawn where they had been working and reviewed the work with me when they were done. This was definitely above and beyond customer service. Thank You!
Kent Hegsted
Above and Beyond
On a Friday discovered our water main was leaking coming down the driveway. I called 5 companies that morning. Service Plus was the only one that was able to send someone same day to evaluate our problem. Jordan came out and evaluated our problem and gave us two possible fixes. Before we had even agreed upon the solution he offered to install a bypass hose to get water back to the house. We had them replace the water main to the house. All work was accomplished in one day the following week and was above our expectations. Landon came out himself and did the install. We'll definitely be calling this company in the future with our plumbing problems.
Michael Fulk
5 Stars
Service Plus did a great job. The work went as scheduled with almost no disruption of water during the transition to a new supply line. All aspects of the job were delivered as promised.
Jim Mooney
Great service, Professional work, and nice people
Landon took care of my water pipe leak underground (between the meter and the house. Was causing 3x of usage). His office (Melissa) managed the appointment and paperwork, Landon replaced the pipe quickly with minimum disruption and no mess behind, and he was also very approachable. I would recommend their service to anyone.
C S
i would give them a 6
my toilet was rocking so it needed to be resealed. i have been taken by other plumbing co. more than i would like to think about. one co. came out and without even taking the toilet off, they wanted to cut up my floor, so i waited for a while and skeptical of other companies. they sent Jordan out and was pleased with him, very pleasant young man and felt comfortable with him in my home, a good representative for the co. had the mask and booties on, worked fast and price was fine. i am throwing all other plumbing co. cards out , will use them again.
claudette
AAA+ Service
Landon personally came out to our home to give us an estimate to replace our main water supply line. The job was scheduled within 3 days of hiring ServicePlus. On the day of service, Landon arrived at the agreed-upon start time; went right to work completed the job within the timeframe promised. We were very impressed with his knowledge; his efficiency; his thoroughness; and his work ethic. We highly recommend him to anyone who needs new water supply line. Great to work with.
Bruce and Dawna Maiden
Outstanding customer service
Couldn't have been more impressed with Service Plus. Some of the best customer service I have experienced ever. I would absolutely recommend Service Plus to anyone. If you have plumbing needs, do yourself a favor and contact them.
Aaron House
Great Service
Steve exceeded my expectations! Arrived as promised, was friendly and respectful and very knowledgeable. Quickly assessed the job and worked efficiently to resolve a challenging storm sewer clog. Hydro jet system was very effective! Steve was experienced and impressed me in all aspects of his performance, good guy, great job. Thanks Steve!!
Gene Dieterle
Difficult repair handled well
I had a challenging repair with difficult access. Landon the owner did the work and kept me informed along the way. It was costly but I felt the pricing was fair. I would call them again.
Laurie Harquail
Stress turned relief
Steve came out to look at my garbage disposal, and I was stressing. It was another issue added to an already full plate. I didn't even have time to troubleshoot anything myself. However, when Steve came out he helped create a safe and comfortable place and I never felt any discomfort when finding out how simple the fix was.
Thanks Steve.
Joe Cacioppo
Very impressed
Thank you for being such an wonderful company to work with. Your work is perfection, you value honesty and both of them show in your company and your finished product.
Derrick S
Professional, Punctual, Honest
Service Plus Plumbing are a very professional plumbing company. They are up front and honest, show up on time, and provide a superior experience and finished product. I highly recommend them for all of your plumbing needs in
NE Portland!
Robert L